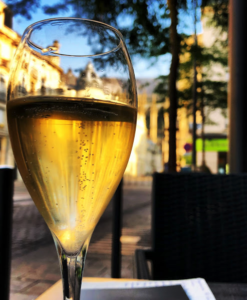 Pol Auguste Couronne was born on Oct 22, 1862, in the historical village of Hautvillers. He was inspired by the Abbey of Dom Pérignon and the history of Champagne.
In 1887, Pol Couronne decided to create his own Champagne House and began making small batch champagnes cuvées. Authenticity, passion, and a sincere respect for winegrowing and nature are at the core of Pol Couronne's champagne. After the foundation of the House in 1887, Pol Couronne began to promote and sell high-end still wines (nice white and red Coteaux champenois) and champagnes.
As owner and winegrower, he was entirely dedicated to share one specific philosophy that can be tasted in its bottles: Champagne know-how and excellence in craftsmanship. His enthusiasm and perseverance were rewarded in Paris in 1921 when he was awarded "croix de chevalier du mérite agricole". His excellenct research effort was an ambitious ideal that required time and patience.
This heritage is the result of over a century of dedication to vines and sharing values of respect for nature, wine growing and craftsmanship. Over time, new ambitions arise, but the same values reflect the passion for their work – today Pol Couronne's legacy is respected and admired.