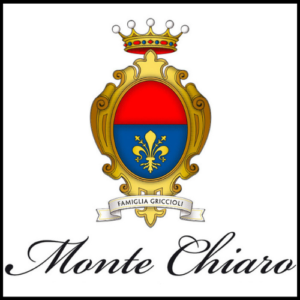 The Grigia Griccioli family dates back to 1345 and has worked the lands (terre) for centuries. Hence Terre della Grigia. In the current Montechiaro estate was developed and what you see today- vineyards and villas with an expansive view of Siena and countryside. Most importantly, the lands produce rich, fruitful grapes that are proucing an assortment of wonderful wines orchestrated by the talented winemaker and owner, Alessandro Griccioli.
Careful attention to detail permeates all their wines (and fabulous olive oil) producing a range of wines from sangiovese grapes: Chianti, Rosé, and a delectable Chianti Reserva. However, not to be missed is the artful and unique white wine – Arteliquida – a blend of Viognier and Malvasia. The estate warmly welcomes visitors and also has a retail shop inside the 13th century Monteriggione Castle. (not to be missed!) It's open all year round and absolutely worth a visit.
The vineyard has been a certified organic producer since 2010. To Montechairo the organic mode of production is the natural culmination of a quest to achieve the greatest expression of land, which ultimately seeks to obtain grapes rich with life and expressive potential.
There is an option to buy direct from the winery, and have it shipped from Italy at the same prices as WineVIP,  if you factor exchange rate and shipping fees. We cannot vouch for the timing, risks, nor conditions of the shipping from Italy. ​