Castello di Meleto has been welcoming those arriving to Gaiole in Chianti since 1256. A perfect fusion between the past and future, the castle is a superb expression of authentic Tuscany. Castello di Meleto produces prestigious wines, which are excellent interpretations of the terroir, as well as extra virgin olive oil and raises the heritage pig breed, Cinta Senese.
Located close to the border between the ancient Republics of Siena and Florence, just over half a mile from the historic village of Gaiole in Chianti, the earliest record of Meleto dates back to the 11th century when the castle belonged to the Benedictine monks of Badia a Coltibuono. Today, Castello di Meleto sits on a vast and enchanting 2.609 acre of land, of which 400 are vineyards. Thanks to the expansiveness of the Meleto property and the long tradition of viticulture, the most ideal plots were selected for cultivation and divided into five macrozones which stretch around the castle and offer distinctive micro-climates: Meleto, San Piero, Poggiarso, Moci and Casi.
In recent years, Castello di Meleto has made many improvements in order to produce wines that fully embody the character of this unique land and that best represent Tuscan enogastronomic culture. The prevailing varietals are Sangiovese, destined for the production of Chianti Classico wine, Merlot, Cabernet Sauvignon, Malvasia Nera and other traditional varietals are also planted. Recently, however, Castello di Meleto has focused its replanting efforts on carefully selected clones and has replaced some international varietal vineyards with native varietals in an effort to produce wines that emphasize even more the region's unique character.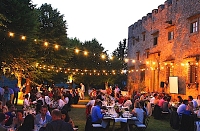 Meleto is an incredible spot for special occasions and hold many weddings and parties overlooking the hills of Tuscany. If you are looking for the perfect spot for a special event, this is. ps- staying at the 15th century castle is AMAZING.